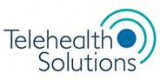 Telehealth Solutions
About Telehealth Solutions Ltd
Telehealth Solutions, founded in 2006, is a pioneering telehealth company with high-quality, low-cost systems available for use in homes, GP surgeries and pharmacies. Telehealth Solutions has a simple mission: to design and deploy patient-focused solutions that can assist in the improvement of patients' health whilst at the same time reducing the cost of health delivery.
Our fully-integrated solution significantly improves caseload management by combining technologies with best clinical practice.
Our easy-to-use HomePod empowers patients through self-monitoring and education to enhance their health and well-being. Our team of clinical nurse specialists provide the expertise and knowledge to support patients in improving outcomes. Through reviewing clinical data and using telephone triage, nurse specialists support clinicians in cost-effective management of patients using local care pathways. Our products and services complement the skill sets of clinicians who work in partnership with our nurse specialist teams to agree patient –specific management plans.
Our company is renowned for its flexibility and forward-thinking technology and our staff for their dedication and commitment to providing the highest levels of customer service. We are a growing company with partners in the NHS and private sectors both in the UK and overseas.