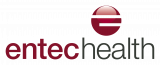 Entec Health Limited
Entec Health presents Silhouette, an innovation in wound outcomes management technology
Entec Health is a specialist healthcare technology and transformation solutions company. We market medical devices and IT solutions for specialist clinical applications to enable healthcare providers to deliver better care and value to patients and key stakeholders.
Our reason for attending this event is to engage with clinical commissioners and health service providers to establish an understanding of wound management service needs, plans and strategies for your Trust and Region and present to you our leading offering, Silhouette, an exciting innovation for wound outcomes management, developed by ARANZ Medical Limited.
Silhouette is an electronic wound imaging, wound assessment and wound information management system solution that can support telehealth capability for wound management services, including at- a-distance wound imaging and wound assessment, wound progress monitoring, documentation, reporting and analysis of wound outcomes for Leg Ulcer, Pressure Ulcer and Diabetic Foot Ulcer Management.
Ms Achala Patel, Commercial Director, will be attending the conference and she is interested in arranging 1:1 meetings with interested potential buyers. Please contact Achala through the online meetings scheduler or email directly at achalapatel@entechealth.com